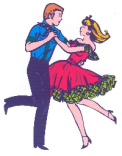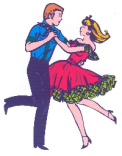 Needham, Massachusetts
---
ALERT! ALERT! ALERT!
Great Plain Squares is changing locations for the next square dance season of 2014-2015. Our current home at the Carter Church is going to have major renovations. Check this spot often for updates.
Here are the locations as of August 2014.
Wednesday night dancing will be at the First Baptist Church. The address is 858 Great Plain Avenue, Needham MA.
Halloween Dance on Saturday November 1, 2014 will be at the Masonic Hall. The address is 1101 Highland Ave, Needham MA.
Saturday night dances will be at the First Parish Unitarian Universalist. The address is 23 Dedham Avenue, Needham MA.
---
---
Try Square Dancing For Fun and Exercise!
Save gasoline and burn energy. Learn to square dance at your local square dance club. It is a great way to have a fantastic evening out while getting exercise. Great Plain Squares of Needham, MA will teach you all about square dancing. Our classes assume no prior knowledge of dancing. Square dancing is a fun way to learn to dance.
On September 10, 2014 we will have a fun night to introduce you to square dancing. Join us at 7:00 p.m. as we welcome you to our world of square dancing. The first class is free and successive classes are $7.00 per person. We dance every Wednesday night at the First Baptist Church 858 Great Plain Avenue in Needham MA. Contact Noreen King at trishasmom@gmail.com for more information.
Here is a flyer of our dance. Click here for the PDF version.

Read the FAQ here. See you at the square dance!
---
Halloween is coming. The Great Plain Squares is ready. We have invited ghost and goblins. Witches and warlocks. All sorts of creatures and dancers of the night are destined to visit our club on November 1, 2014. Join in the festivities. Wear a costume for the evening. Dance to Matt Auger and Bernie Porter as we have some fun and happiness showing off our attire at the Masonic Hall 1101 HIghland Avenue in Needham MA. Click here for a flyer. Halloween Flyer
---
Read the FAQ here. See you at the square dance!