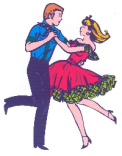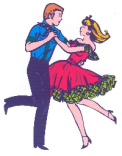 Needham, Massachusetts
---
ALERT! ALERT! ALERT!
Great Plain Squares is changing locations for the next square dance season of 2014-2015. Our current home at the Carter Church is going to have major renovations. Check this spot often for updates.
Here are the locations as of August 2014.
Wednesday night dancing will be at the First Baptist Church. The address is 858 Great Plain Avenue, Needham MA.
Saturday night dances will be at the First Parish Unitarian Universalist. The address is 23 Dedham Avenue, Needham MA.
---
---
Summer Dance August 1, 2015
Summer is coming even though all we see is snow outside. I really do see snow as I am posting this. The Summer dance
will be held on August 1, 2015. Dance to Darrell Sprague and Harriett Clarke as we have some fun and happiness in the summer time. The location is at the Unitarian - Universalist Church at 23 Dedham Avenue in Needham MA. Click here for a flyer. Summer Dance Flyer
---
Read the FAQ here. See you at the square dance!