The Holiday season is coming. Join us on Wednesday, December 16, 2015 for our Holiday party.


With the Holidays comes some Wednesday, "No-Dance" Dates: in November and December.

November 25, 2015
December 23, 2015
December 30, 2015

Check our schedule page for all of our listings.



New Year's Needham (NYN) is our chance to perform to the Needham audience. When Needham started this idea of a New Years party, we were one of the first groups to become involved. It is a really fun way to get the town of Needham to experience Square Dancing in a fun social celebration as we usher in the New Year. Our time slot is 4:00 pm at the Unitarian Church with Steve Park doing the calling. Come dance with us and see how Needham rings in the New Year. NYN Buttons are $5.00 and gives you access to all the NYN activities.



Our annual Class Level Snow Flake Ball is January 30,2016. Bob Butler and Bernie Porter are the team for this wonderful Class Dance. Be sure to bring your New Dancers to a night of Class Level Dancing. Ask your angels what a Poinsettia Dance is. You have to attend to experience a Poinsettia Dance. The dance location is Carter Methodist Church 800 Highland Avenue in Needham. Click here for a flier.





Great Plain Squares extends a warm welcome to Mainstream and Plus level Square Dancers. We dance from September thru May at our regular Wednesday dances from 8:15 p.m. to 10:00 p.m. (with rounds). The last tip is Mainstream Fast Track. Come join us!



Club Caller: Bob Butler
Club Cuers: Phil Gatchell and Scott Cohen

Wednesday night dancing is at:

Carter Methodist Church
800 Highland Avenue
Needham MA


See our dance schedule for specific information.


What are you doing on Wednesdays from September thru May?
Why not come down and visit our club and have a fun time! We feature round dancing and square dancing. We have the benefit of Bob Butler's great calling. We also enjoy Phil Gatchell and Scott Cohen. These are our round dance cuers.
Mail:
Richard Lane
429 East Street
Dedham, MA 02026-3019

E-mail: GreatPlainSquares@yahoo.com
Phone: 781-326-2014
Join us Wednesdays in the fall!
GPS extends a warm welcome to all club dancers to stop by and join the fun!
This is a picture of our graduating class of 2012 doing Gemini dancing!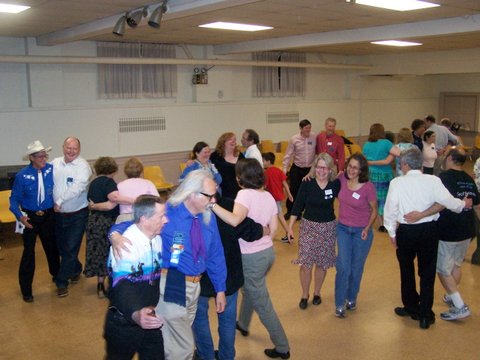 To learn more about classes or our club contact us by email: GreatPlainSquares@yahoo.com
For the Class Handbook you can view it here.
For the Class Schedule you can view it here.
For the Class FAQ you can view it here.

Reading and Video Library



Did you know that even Zumba Dancers like square dancing. Check this link.




Have you ever heard "The Duo" call an exciting dance? New England Square Dance Convention 2009 in Sturbridge MA. Ted Lizotte and Paul Cote are rocking the dance floor with their "Hot to Trot" singing call. Take a look and enjoy. Click here





Everyone loves an award. The past president of Great Plain Squares received an award in 2010. It was the "Local Legend Award" This is an award given to prominent dancers that add so much to our activity. He serves an active role in square dancing and is always promoting square dancing. He is very honored to receive this award. Here is a link to his award given by the Square Dance foundation of New England. (SDFNE). Click here.





Square dancing is good for you. Read an article on WebMD that talks about the healthy benefits of square dancing. WebMD article about square dance click here.

The Wall Street Journal is into Square Dancing. Here is an article that was in the December 16, 2009 issue. It talks about the image of square dancing and attracting younger dancers. Click Wall Street Journal for the article.




Have you ever seen Tractor Square Dancing? NO! Well click here for the video. Or, to see a good example of Mainstream dancing check out this Youtube video.